From Perry Bard
May 13th 2012
Video Vortex 8
The Politics, Cultures and Art of Online Video
Museum of Contemporary Art, Zagreb, Croatia
Conference: May 17-19. Exhibition: May 17-30, 2012
I also curated a program of OWS NY videos for Video Vortex Zagreb, a description follows.If you're in that part of the world it's a great conference, worth attending.

OWS NY CURATORIAL STATEMENT
OWS is an organic leaderless movement inviting participation in the name of democracy. This video program curated online highlights its energy, creativity and diversity. The opening rant (01) calling for an end to the Federal Reserve, an end to the wars that make the 1% richer, an end to corruption, speaks quite clearly to the issues. Fragmented Mic Check (02_ Michael Nigro) introduces the peoples at Zuccotti Park and their diverse concerns. The human microphone evidenced in many of the videos was developed because amplified sound requires a permit in New York City. Videos 04,05,06 document the arrest of 700 protestors on the traffic lane of the Brooklyn Bridge. The arrests spawned OWS solidarity groups across the country. Responses to video 05 on Youtube argue the chaotic details of the march, some say the NYPD led and trapped the demonstrators.
Today occupy is a verb applied to banks, museums, foreclosed homes, cinema, libraries (09_ Ardele Lister & Damien Catera), you name it. Several of the videos target specific complaints: students protest tuition hikes (07_ Joan Logue), protesters enter a Citibank to move their money into Credit Unions, community-based alternatives to corporate entities (09), OWS joins the teamsters in a protest against Sotheby's for locking out union workers (14_ Jim Costanzo), a marine who fought in Iraq and Afghanistan rants against the cops (16, with 40,963 comments). Video (18_ Joan Logue) focuses on foreclosures in East New York.
The number of respected public figures who lend their support by speaking at OWS General Assemblies, marching for OWS (Veterans #19), and being arrested (Naomi Wolf #12) legitimates the movement for a population that needs convincing. More theatre occurs in the form of street performance (#03 _ jim costanzo/www.aaronburrsociety.org,10, 15_Reverend Billy's gospel choir) and the People's Gong (#20), a recent addition to the street repertoire that mimics the closing bell of the Stock Exchange.
OWS NY is a program of rage, humor and ingenious tactics all visible daily on the streets of New York.
May 1st 2012 New York City
May 1st fell on a Tuesday, one of the days I teach at Parsons The New School For Design. Rather than meet in a classroom I invited my MFA students to my 17th Street studio and then for a teach-in at Madison Square Park. We arrived at the Park at 1:30 PM where the teach-ins had already begun.
Around 2:30 PM we walked to Union Square and were immediately surrounded by hundreds of OWS protestors in a peaceful rally.  It was a  joy to participate in this protest and to think of the long tradition of such events in the park. In her recent biography of Emma Goldman, Vivian Gornick describes a political rally at Union Square that took place in August 1893.
"In August 1893, at the height of one of America's worst depressions—tens of thousands unemployed, rally after rally demanding government relief, a hunger march on Washington—Emma gave one of her most provocative speeches. Standing on an overturned packing box in New York City's Union Square, she cried out . . . at a crowd of 5000: "Men and women, do you not realize that the State is the worst enemy you have? It is a machine that crushes you in order to sustain the ruling class, your masters . . . . It is the pillar of capitalism, and it is ridiculous to expect any redress from it. Do you not see the stupidity of asking relief from Albany with immense wealth within a stone's throw of here. . . ."
It's unthinkable that a rally of this nature could take place in NYC today.  What I saw in Union Square  was a relatively small group of peaceful protestors and a massive overreaction by the recently militarized and emboldened NYPD.  Police cars lined the streets for blocks and helicopters hovered overhead.  Scroll way down to see historic pictures of workers gathering in this park.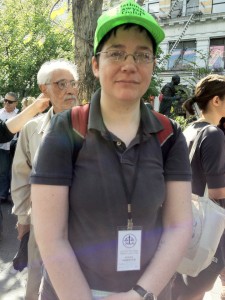 A legal adviser.