News
11/10/17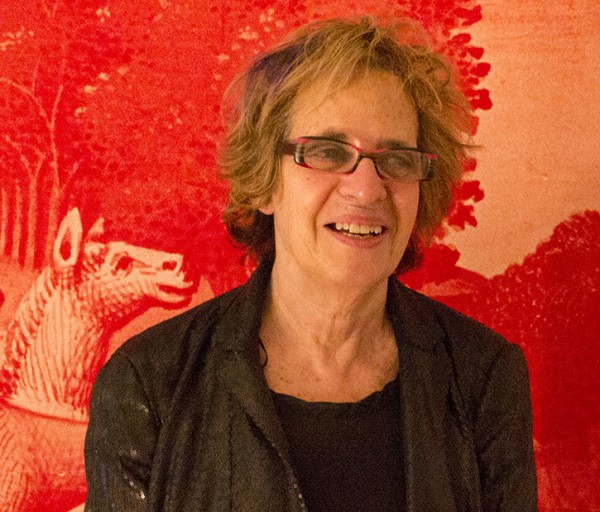 In 1999 I invented the New Society for Universal Harmony (http://thenewsociety.org) and ever since I've used the lens of history—and humor—to explore  utopian longings, dystopic aftermaths, and the sciences and technologies that inform them.  I work with diverse media in all of my projects, incorporating performance, photography, film/video, multi-screen projection, installation and fiction writing. Recently my explorations have focused on ecology, on cultural myths, and on the unstable boundaries between humans and animals.  I create narratives in these various media.  (Please scroll down and click to page 2 for all projects dating before 2014. )
My utopia page has information about New York politics, activism,  and the websites of some utopian friends.  I teach in the MFA Fine Arts Program at Parsons The New School For Design. Visit www.lenoremalen.com for further info and archives.  View CV Lenore Malen 2017
"Because a thing is going strong now, it need not go strong for ever," {Margaret} said. "This craze for motion has only set in during the last hundred years. It may be followed by a civilization that won't be a movement, because it will rest upon the earth.  E.M. Foster Howards End (1910)
"The is the whole point of technology. It creates an appetite for immortality on the one hand. It threatens universal extinction on the other. Technology is lust removed from nature."  Don DeLillo  White Noise  (1985)
Leave a comment
11/9/17
State of Emergency is a curatorial project featuring the work of 60 artists and filmmakers that I've been working on with Nina Felshin since March 2017. Our collaborators have included Jessie English and Ruppert Bohle and most recently The Illuminator http://theilluminator.org/and Eamonn Farrell http://arts.princeton.edu/people/profiles/efarrell.  Teasers for this project were screened at The Queens Museum in July 2017 http://www.queensmuseum.org/events/passport-thursdays-2017-ecuadorand projected onto a facade at the corner of Prince and Bowery on November 16th 2017.
state of emergency a situation of national danger or disaster in which a government suspends normal constitutional procedures in order to regain control.
STATE OF EMERGENCY
A madman steps out of a television screen to become President of the United States. His abuse of power and disregard for civil and human rights has produced what feels to many like a state of emergency.  Unlike his predecessors, who were able to lull the un-marginalized, the new regime has penetrated the comfort zones of the privileged as well. Could this seismic shift perhaps offer the potential for greater solidarity and community? 
The outcome of this crisis is still unknown. We are turning to artists and filmmakers because so often they have provided a lens through which to understand the present and imagine the future. Rather than a single narrative we view this collective effort as a metaphor, not an illustration, of what is possible. To this end we are seeking one-minute clips from existing videos which envision an imagined future and poetically undermine the harsh reality of this moment.
For us, the curators, projection designer, and production manager, bringing these clips together in a creative, poetic, and resonant manner is an act of community and solidarity.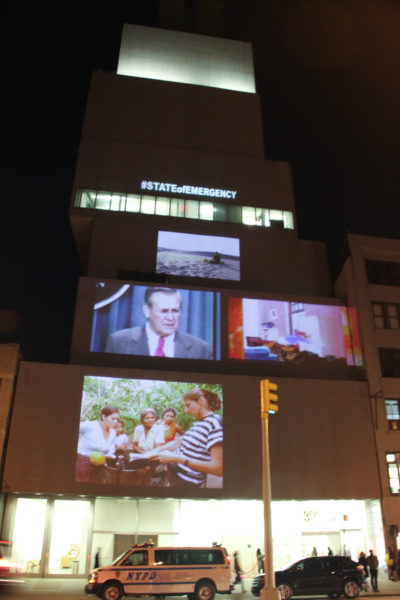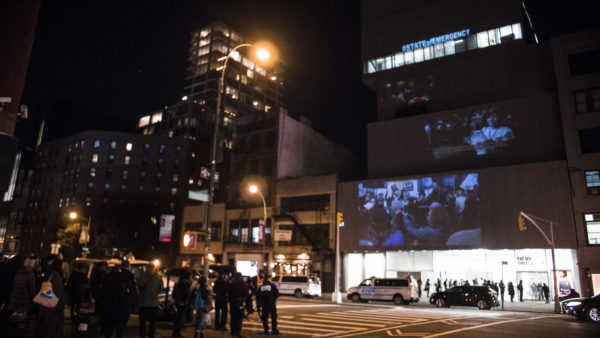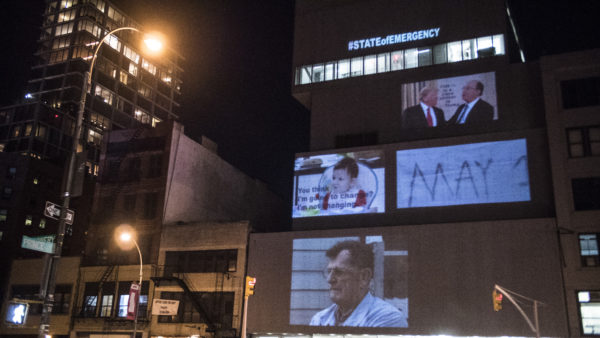 Leave a comment
01/9/16
Scenes From Paradise: Studio 10, January 7 -Feb 5, 2017 Bushwick, NY
****************************************************************************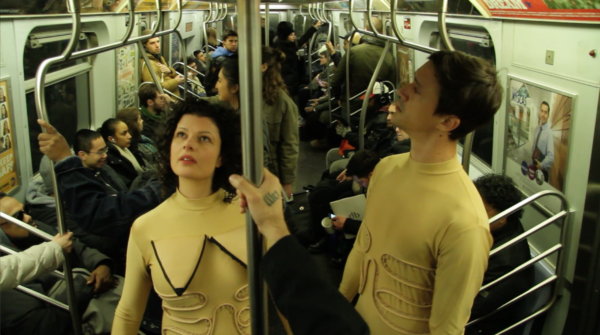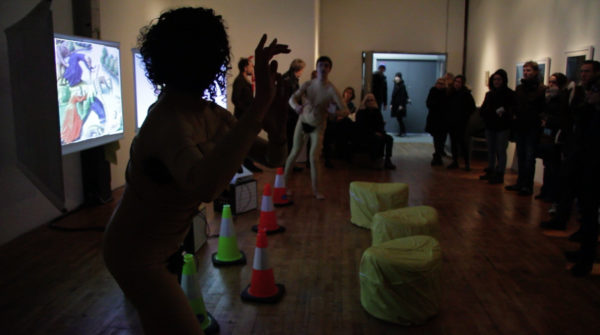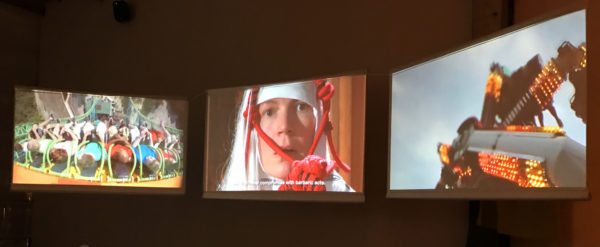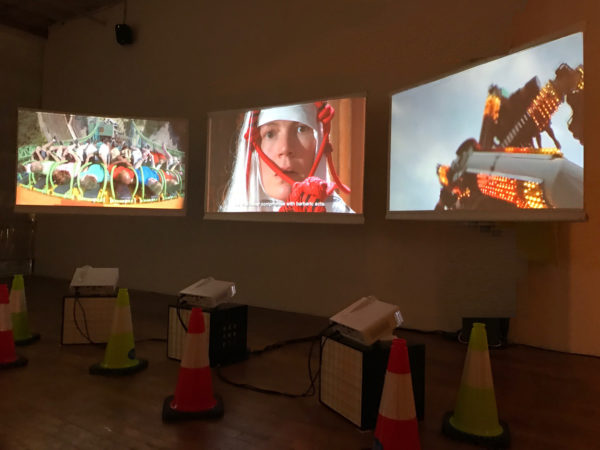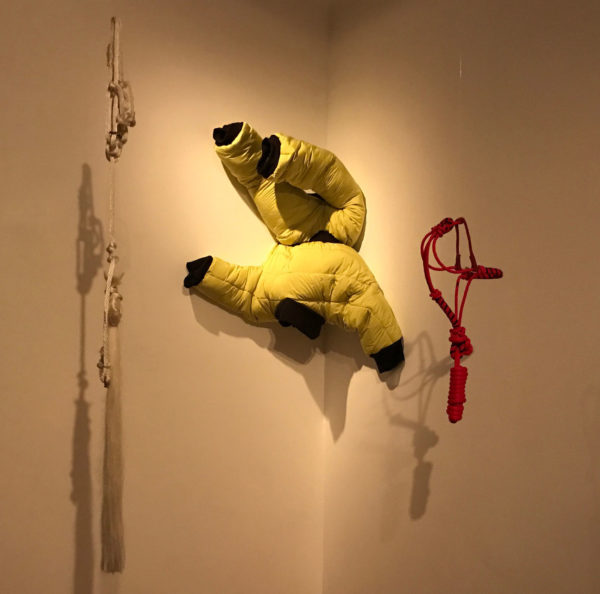 Review In Artforum: Scenes From Paradise 
Lenore Malen
's current exhibition, "Scenes from Paradise," is an eco-
Gesamtkunstwerk
, connecting our environmental crisis with the Bible's declaration that man should have dominion over all nature."
Review in The Brooklyn Rail by Ann McCoy 
Catalogue with essays by Nancy Princenthal and Jeffrey Jerome Cohen
Click here to read —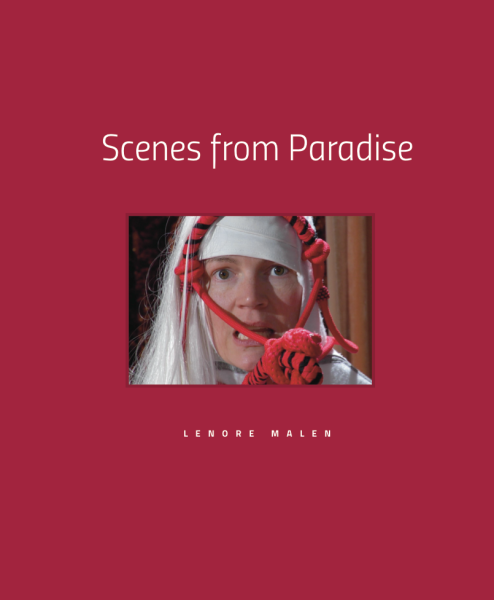 A Letter From A  Visitor 
Dear Lenore, Your show has got me thinking so much about my personal connection to animals to my Catholic upbringing to my history as an innocent hippie, my time in the theater, my strict ballet training, the feminist movement, and right to the current situation in our government with the upcoming gatherings of millions of woman (and men) all over the world who will be penned in together marching against male dominance and the terror of subjugation as cameras and weapons are strategically positioned to keep an eye on our every move.
Coincidentally, yesterday the announcement was made to close the Ringling Brother's Barnum & Bailey Circus. What timing! The PETA group is happy. But what about the meaning of circus in our lives? The three rings? How much the circus got us thinking about animals and how we see and experience them? I've been calling Donald Trump our present day P.T. Barnum. Read about P.T. he was a smart and clever showman. He invented words like super and jumbo. He invented the freak show. Ladies and gentleman welcome to the Greatest Show on Earth. Donald Trump the reincarnation of P.T. Barnum.
What I'm trying to say is that what I saw on your video screens about animals and how we observe them and try to relate to them and how we think we are separate from them but dependent on them is so reflected in the political circus of today. Them and us— animals and people here together, petting, training, caging, selling, eating, preying, shooting, watching each other, as we did yesterday behind the turnstiles and gates in the subway.
I had a dream the night before I saw your show— I dreamt of hundreds of men in ill-fitting gray business suits running through an airport. They were all wearing animal masks. Everyone was terrified. Donald Trump was there with his orange unmasked head and face, he was laughing and smiling until something stopped him. He looked horrified as he grabbed his chest and collapsed onto the floor. In your video with the animals in pink and yellow puffy suits climbing a rock I saw the dream I had the night before.
After seeing your show and watching Adam and Eve in the subway, I now have a strong feeling that we are back in a different walled garden starting all over again from the beginning. What is man's role? Will women rise up? We they switch roles? Will history not repeat itself? We will make all the animals disappear?
Thank you for yesterday, I was deeply moved in emotion and thought. I'm still thinking…
Terry Iacuzz0 January 15, 2017
Leave a comment
01/8/16
An exhibit that I am very pleased to have participated in. April 30- May 21, 2016 http://www.multispecies-salon.org/emergence/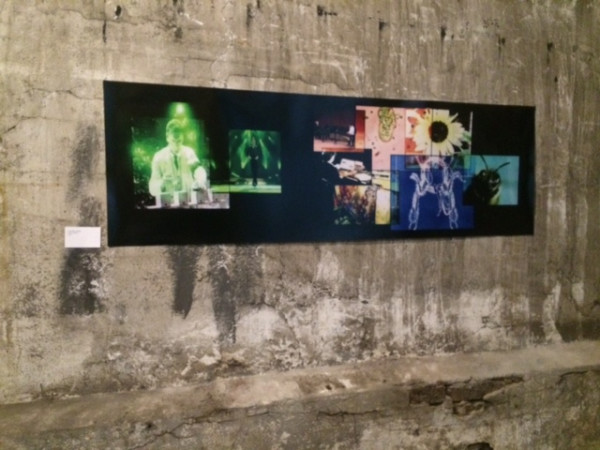 Emergent ecologies are being fastened into place with new rivets and cyborg articulations. Amidst collapsing systems, unruly assemblages are flourishing and proliferating in unexpected places. Microbes that become emergent diseases—by finding novel exploits, pathways of transmission, or modes of existence—can quickly transform dominant political strategies, economic systems, or agricultural practices.  Emergences can also figure into collective hopes.  When a forest is clear-cut by loggers or destroyed by a volcanic eruption, emergent plants are the first to sprout.
Rather than be a static exhibit, that will stay the same from the opening and closing dates, our project will involve playing with the "hap" of what happens. Happiness, in the Old English sense of the word, means having "good hap" or fortune. We will be conducting experiments with happiness and glass, breaking down boundaries (and constructing new ones) to see what ecological communities might emerge.
Emergent Ecologies features bioart installations, living sculptures, paintings, photographs, and digital media.  Kilroy will be open to the public during a series of events and weekend gallery hours.
Leave a comment
01/8/16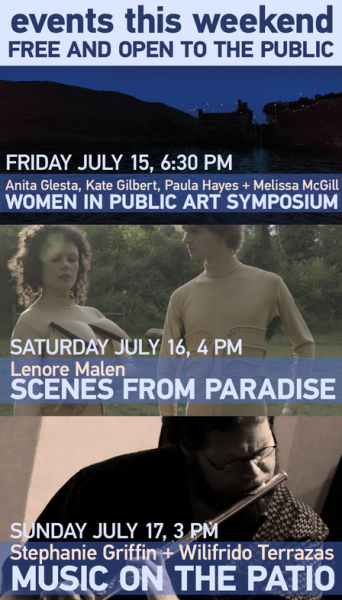 A restaging of my film "Scenes from Paradise" at Art Omi on Saturday July 16th, 2016. With Jessica Weinstein as Eve and Blake Habermann as Adam — and Dan Devine.  Crew: Catherine Mctague and Joel Olzak.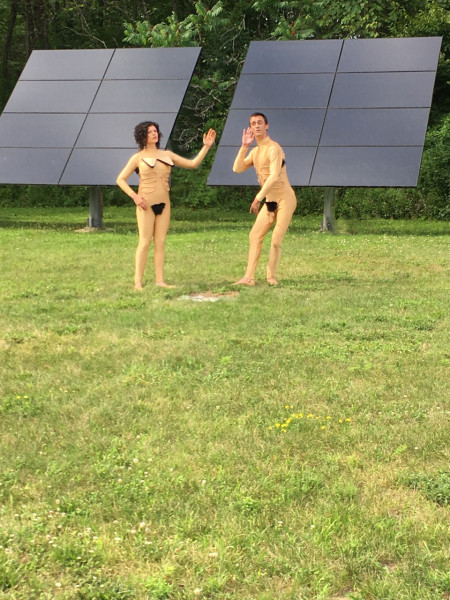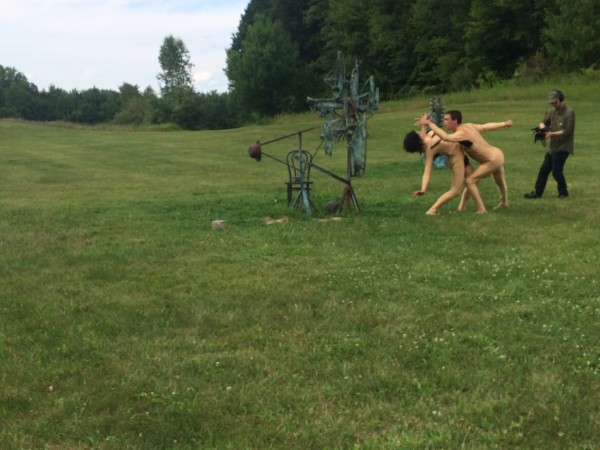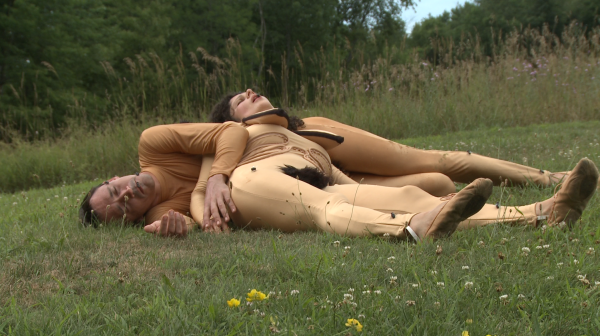 Leave a comment
03/23/15
The critical blog romanovgrave.com/studio-visits/lenore-malen recently posted an essay on Scenes From Paradise: a series of  3 channel videos and a film (2016). Their essay ranged widely from politics to film and expands greatly on previously written posts on this site.  A still from the film is shown here.   (The web version of the essay (see link above) has numerous pictures that  illuminate the text.)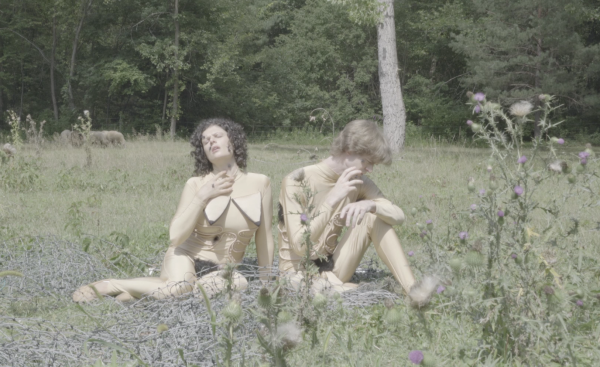 New York City, Central Park. Four animals, a horse, a goat, a lion and perhaps a Dalmatian, make their way as a team, seeming to rappel without ropes, across a rocky outcrop of 450 million year old schist rock. The blocking of the figures evokes the dance of death scene from Bergman's The Seventh Seal. The pinstripe skyscrapers in rear bring to mind Hitchcock's North by Northwest. The setting, Central Park, deploys, tragically, Olmsted's culture performed as nature. We would do well to remember that Bergman staged his opus as a chess game between a returning crusader and the figure of Death as the bubonic plague ravaged Europe; that Hitchcock invented for his film a compass point that simply does not exist, while, with Olmstead, nature is nothing more than an echo of an anthropomorphized projection. As we sift and connect these dots, as we do for the above the very messy calculus we all know this will not turn out well. An end game is in at hand.
Approached in medias res in the studio this is an initial take on Lenore Malen's current project, a multi layered and multi part film project titled Scenes From Paradise. Screened for us by the artist in her studio, provisionally arranged as a three-monitor installation, the work unconsciously, unknowingly, came to resemble the three altars of a place of Catholic worship. (Maybe prayer can save us, but we have our doubts.) The entire project has evolved over the past two and a half years out of Malen's chance discovery, as she browsed the web, of a medieval manuscript illumination. The artist of that illumination, The Maître Francois, worked in the service of The Duke of Nemours, producing the rarified knowledge of the less literate, but in its own way knowledge filled, 15th century.  Continue Reading
Leave a comment
03/23/15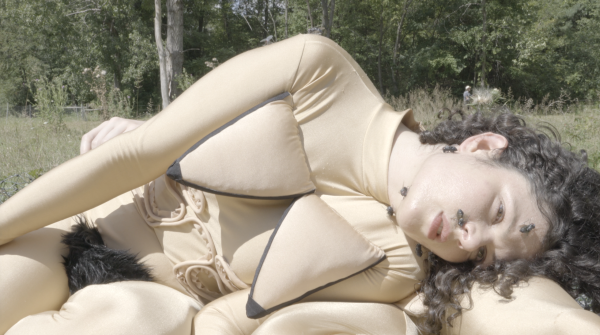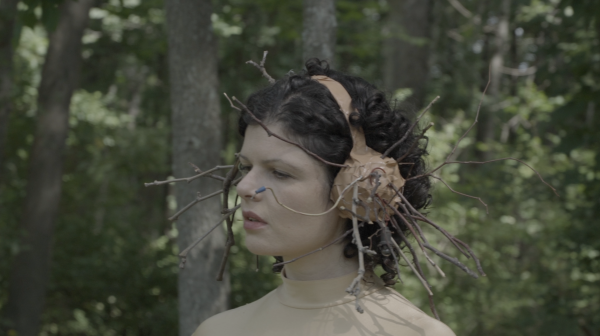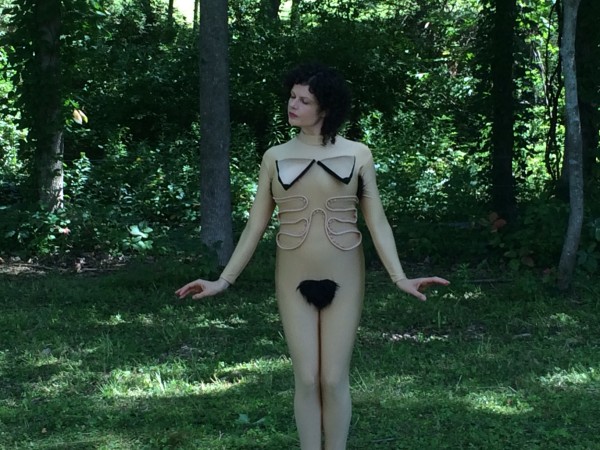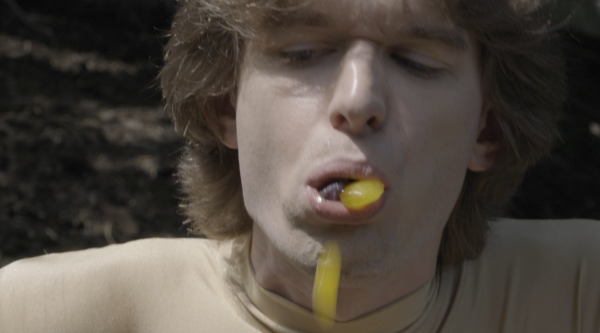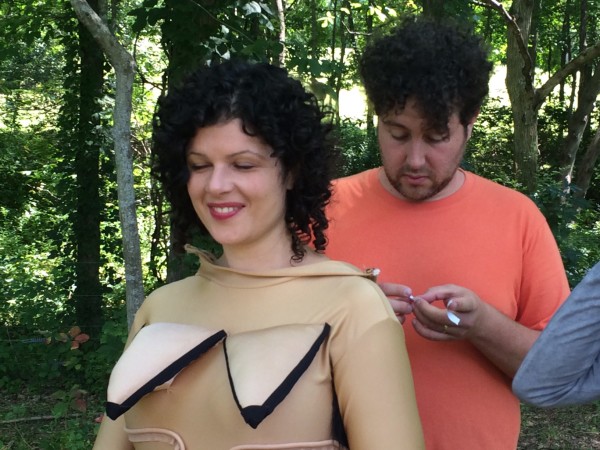 Shot on location in Ghent, New York, August 20-23, 2015 using 3 Sony A7 cameras. A rough cut, uncolored. Two characters, Adam and Eve, naked and unashamed and like time travelers find themselves on a sheep farm in upstate New York. They learn to be human going about it naively, polluting the ground with small hard candy wrappers. They interact with the sheep. They react to objects, phantom limbs, binoculars, headsets, crutches, ipads, they sit and talk. They read from scientific papers. They name the animals and they die. This project is the culmination of a decades long exploration of utopian dreams, touching on the wish for a perfect society and a world without suffering, while knowing the folly of every attaining such perfection, which is perfectly expressed in the paradox of the biblical earthly utopia Eden. With Jessica Weinstein as Eve and Tim Lueke as Adam. Camera operators Jessie English (DOP), Eric Feigenbaum and Ilana Rein. Sound Pete Moses, Production Assistant Fernando Do Campo, Props Alona Weiss, Costumes Ingrid Zhuang, on site in Ghent, New York. With immense gratitude to Dan Devine and Lawre Stone and their flock. Produced, written, and directed by Lenore Malen & The New Society for Universal Harmony.
Leave a comment
03/22/15
http://www.unige.ch/lettres/angle/posthumanism2015/welcome/
http://scale2015.com
I was invited to speak and present my work at a conference in
Geneva titled "Approaching Posthumanism and The Posthuman" — June 4th, 5th, 6th 2015. Unforgettable talks including a keynote by Carey Wolfe on Extinction where he broadly ranged from poetics to biopolitics, history and the archive. Celan/Wallace Stevens/ James Fenimore Cooper/Deleuze/Derrida — beautifully written and delivered and sobering, all around the work of contemporary artists on the extinct California Condor and the passenger pigeon and including the work of Michael Pestel. Also presenting were Carole Sweeney on Houellebecq and the medievalist  JJ Cohen http://www.inthemedievalmiddle.com/ on Posthuman Environs: Fnorteth and much more.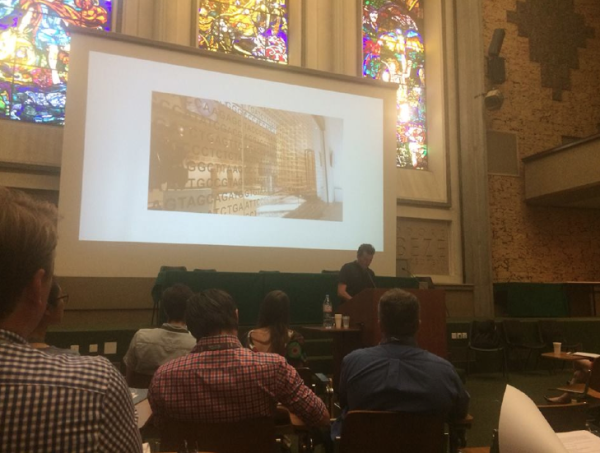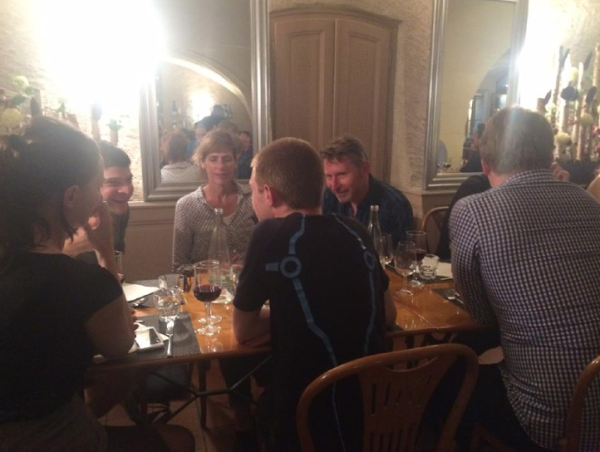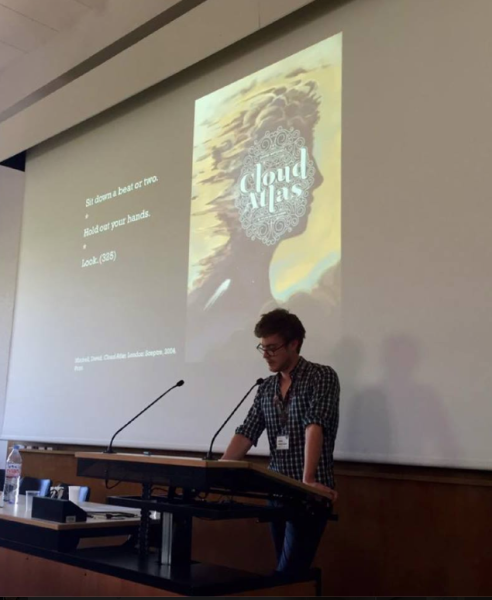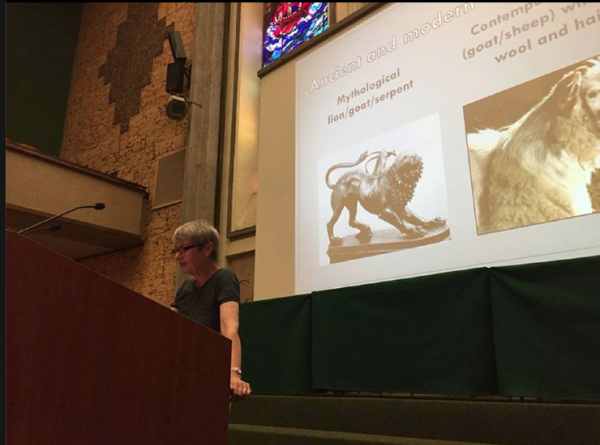 Leave a comment
03/22/15
Some stills from a three- channel video installation, Scenes from Paradise,  that's currently in production. We're planning on 6 scenes altogether, filmed in Central Park, a rooftop in Brooklyn, in the studio, and elsewhere. All were  inspired by a medieval manuscript illumination I discovered on the internet (see posts below) and explore representations of animals and humans as seen through the eyes of a single creature.  Read Boris Groys's comments in e-flux journal's issue 45: "Rather, the artwork remains present in the future. And it is precisely this anticipated future presence of art that guarantees its influence on the future, its chance to shape the future… Art shapes the future by its own prolonged presence." and my response  in a Brooklyn Rail essay  The Unconscious, (also linked below).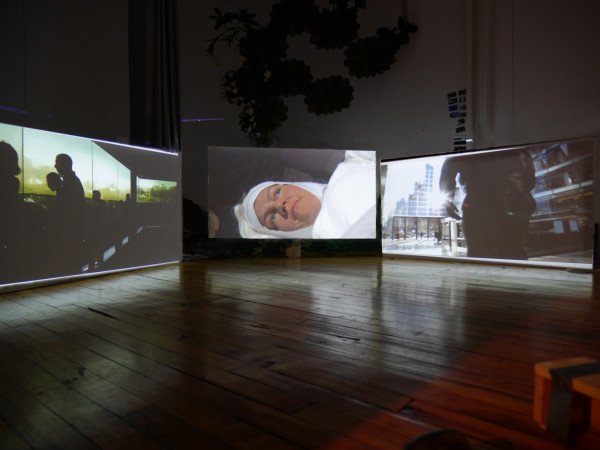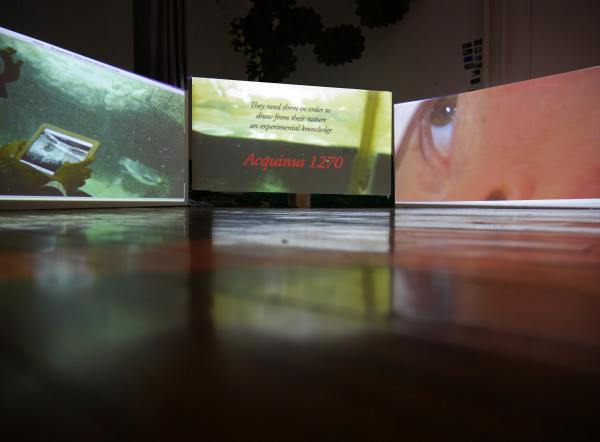 Leave a comment
03/22/15
I'm very pleased to be participating in FOODshed: Agriculture and Art in Action  a  excellent show curated by Amy Lipton at  CR10,  a showcase for media and visual art founded by Francine Hunter McGivern in Livingston, NY,  just south of Hudson. With Joan Bankemper/Black Meadow Barn, EcoArtTech/Lelia Nadir & Cary Peppermint, Joy Garnett (The Bee Kingdom) Habitat for Artists Collective (Simon Draper, Aidan Draper, Michael Asbill, Carmen Acuna, Faheen Haider, Jessica Poser, Elyssa Willadsen and Green Up, Natalie Jeremijenko, Peter Nadin/Old Field Farm, Andrea Reynosa, Jenna Spevack, Susan Leibovitz Steinman, Elaine Tin Nyo, Tattfoo Tanh and Linda Weintraub.
Here are some pictures from the installation and the opening: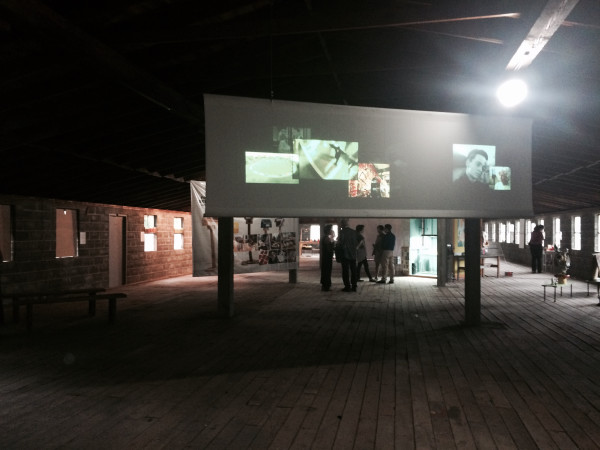 Leave a comment
Pages