November 2012
11/5/12
Hoping to help the victims of Hurricane Sandy Jackie Brookner and I took some provisions — water, cleaning supplies, clothes — to an Aid Distribution Center on Far Rockaway in Queens, NY on Saturday afternoon, Nov. 3
We were part of a coordinated relief effort organized by Occupy Sandy which itself represents a coalition from Occupy Wall Street, 350.org, interoccupy.net, and Recovers.org.
We drove to Far Rockaway from an Occupy Sandy aid distribution center on Nevins Street in Brooklyn via the Belt Parkway (skirting the east side of Brooklyn and the Broad Chanel Wetlands) and then proceeded due south on the Cross Way Blvd. It's a beautiful ride on any day, but the reflection of the mid afternoon light and low gray clouds on the wetlands made it especially lovely this past Saturday.
But when we finally arrived at the beach it looked like a war zone in the aftermath of a bombing.  Piles of debris (sheet rock, drenched wood, furnishings) lined the streets outside neat wood frame and brick houses making them nearly impassable. The boardwalk itself had been lifted in whole sections and deposited across the road from the water's edge.  The beach was washed away, the sand piled up in 4 and 5 ft mounds.  There was still no power, few people had returned, and military helicopters were flying overhead. Jackie watched a man scooping handfuls of sand onto the street from his living room window. As always the housing projects seemed the worst off.  Here are some pictures that I took with my cellphone.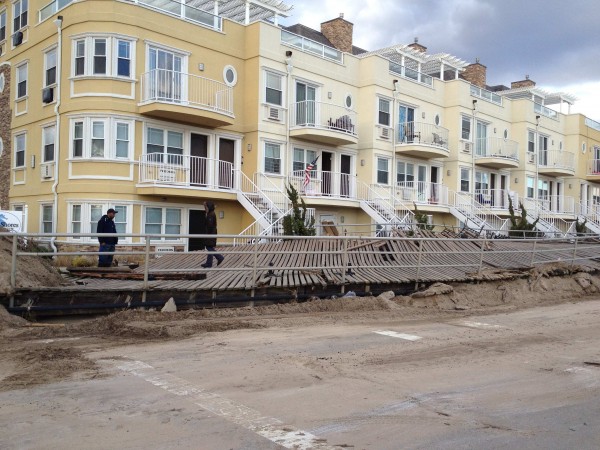 With all this destruction it was heartening to see some dedicated volunteers at the community drop-off center, on the beach, and a few other locations.
Nov. 5th—I read today that there are now hundreds of volunteers working in all the outlying communities that were devastated by Sandy.  And a lot of people are asking: Do we cede these areas to the sea? Should anyone be living so close to open ocean ?  These are painful questions: 115 thousand people live in the Rockaways and Broad Channel. Generations have grown up here.  For them relocation must seem unthinkable in any timetable, and the one of the most difficult questions as always is: who will pay?
You can learn a lot about the area on the web:
Rockaway itself is a barrier split, inherently unstable and constantly changing in response to natural and human forces.  Six openings or tidal inlets separate the barriers and connect the bays with the ocean. All of the inlets are artificially stabilized with structures and are dredged to allow for navigation by commercial and recreational boats.
The name "Rockaway" may have originally meant "place of sands" in the Munsee language of the Native American Lenape. Other spellings include Requarkie, Rechouwakie, Rechaweygh, Rechquaakie and Reckowacky (see: Toponymy of New Netherland).[2]
Leave a comment