News
01/20/15
A very interesting book of essays on the boundaries by which we define the human that features my work in an essay by Jussi Parrika.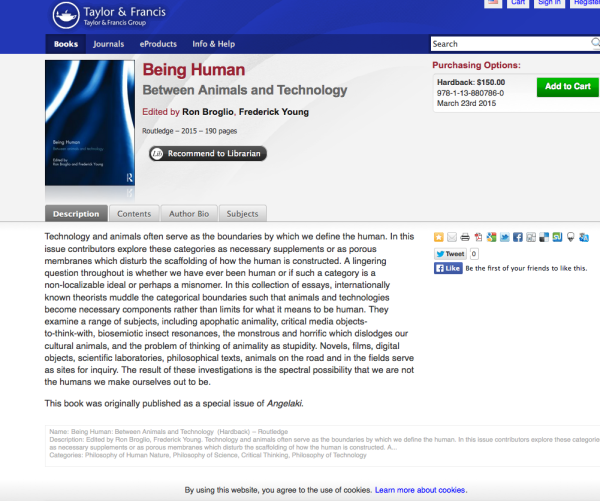 Leave a comment
01/19/15
A visit to a Art/Sci UCLA in Spring 2015 — directed by Victoria Vesna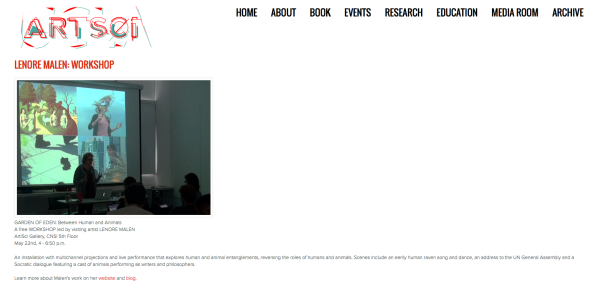 Leave a comment
12/29/14
The List: A FB Readers Guide
A Confederacy of Dunces John Kennedy Toole
Barkskins Annie Proulx
Gone With the Wind Reconstruction
A Monster's Notes Laurie Sheck
Ransom David Malouf
Phantasmagoria Marina Warner
Mark Rothko From the Inside Out Christopher Rothko
The Life and Art of Florine Stettheimer Barbara J. Bloemink
Debt David Graber
The Essays of Hazlitt
The Gulag Archipelago Solzhenitsyn
The Apparently Marginal Activities of Marcel Duchamp by Elena Filipovic
The Hidden Letters of Velta B by Gina Ochsner
Swan Song Robert McCammon
Shantaram Gregory David Roberts
The Righteous Mind_ Why Good people are Divided by Politics and Religion Jonathan Haidt
The Trespassers Tana French
Hamilton: The Revolution by Lin-Manuel Miranda
Barkskins Annie Proulx
How will Capitalism End Wolfgang Streeck
The Goldfinch Donna Tartt
Beyond Shame Patrick Moore
White Trash Nancy Isenberg
My Brilliant friend Elena Ferrante
Sila Chantal Bilodeau
At the Existentialist Café: Freedom, Being and Apricot Cocktails Sarah Bakewell
The Bas Ass Librarians of Timbuktu Joshua Hammer
Indivisible: A practical Guide for Resisting the Trump Agenda Karl Rover
Assassin series Robin Hobb
The Search for Home Marwa al Saubouni
Drunk Tank Pink: And Other Unexpected Forces Adam Alter
Float Ann Carson
Devil in the White City Erik Larson
Patti Smith's
M Train. Just Kids
The Dream of Enlightenment Anthony Gottleib
A history of early modern philosophy from Descartes through the British Empiricists
The Girls and Shakespeare Early History
Half of a Yellow Sun Chimamanda Ngozi Adichie
Orea Fran Ross
The Door by Magna Szabo
Alice in Wonderland Lewis Carroll
41 Shame Salman Rushdie
The Sellout: A Novel by Paul Beatty
You Must Change Your Life: The Story of Rainer Maria Rilke and Auguste Rodin Rachael Corbett
At the Exisistentialist Café by Sarah Blakewell
The Noise of Time by Julian Barnes
46.A Gentleman in Moscow by Amor Towles
Born a Crime Trevor Noah
The Angel of History Rabih Alameddine
Inferno by Eileen Myles
Trouble on Triton: An Ambiguous Heterotopia Samuel R. Delaney
Jane Eyre Charlotte Bronte
52.The Bronte Cabinet Deborah Lutz
Burning The Days: Recollection James Salter
An Unnecessary Woman Rabih Alameddine
The Hakawati Rahib Alameddine
KoolAids Rabih Alameddine
Hope in the Dark Rebecca Solnit
A Woman Looking at Men Siri Hustvedt
The Sympathizer by Viet Thanh Nguyen
The Hare with Amber Eyes Edmund De Waal
Perdido Street Station China Mieville
Forever Pete Hamill
Brown Girl Dreaming Jacqueline Woodson
The Star Side of Bird Hill by Naomi Jackson
We Gon Be Alright: Notes on Race and Resegration Jeff Chang
66 I'm very into you/So good Kathy Acker and McKenzie Wark
Leave a comment
12/10/14
11/26/14
In the studio preparing for a shoot and live performance, a scene from Paradise,  filmed on Umpire Rock in Central Park scheduled for Sat. Dec 6th 2014— rain date Dec. 7.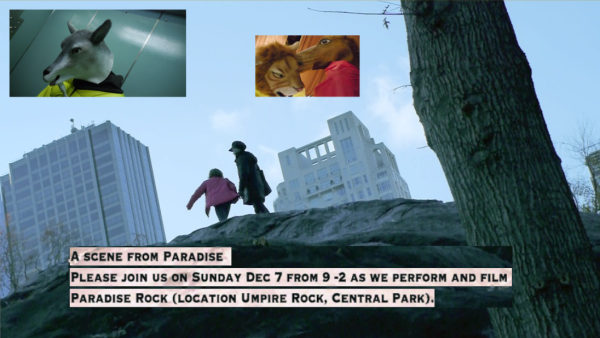 All are welcome from 9-3. Here with co-director Jessica Weinstein, actor Davina Cohen, and Rujuta Rao.
Leave a comment
05/25/14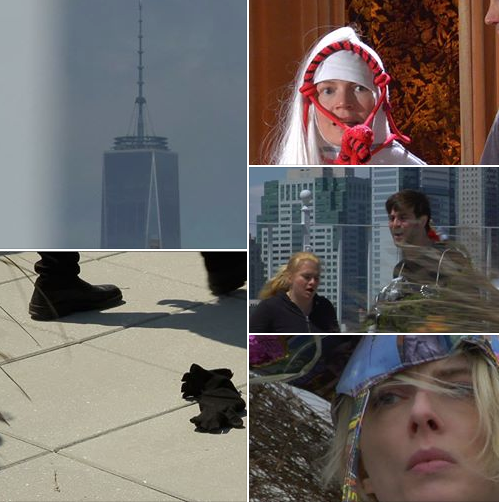 An update of some recent videos, publications and lectures — These are video stills from my ongoing project Paradise with actors Catherine LaSota, Kathryn Alexander, Michael Caines, Nick Schrifin, Laura von Holt and others, who appear as mourning ravens on a Brooklyn rooftop, as St. Theresa (LaSota), drawing from the Thompson/ Stein production of Four Saints in Three Acts, and as the horse character  (Alexander) in the video Reversal.
The media artist Victoria Vesna invited me to screen this new work at the UCLA Art/Sci Center and Digital Arts Research Network http://artsci.ucla.edu/?q=about ( May 2014), a program that she directs as Professor in the UCLA Dept of Design/Media Arts.   I also had the pleasure of conducting a workshop for her students who were an extremely interesting mix of science, media and fine arts majors.
In June I was invited to show selections from these same video projects and deliver a paper at the conference "Welcome to the Anthropocene: From Global Challenge to Planetary Stewardship." The  annual  conference of the Association for Environmental Studies and Sciences (AESS) it was held in New York from June 11-14 2014 at Pace University. Catalogue (PDF) is attached here AESS Catalogue and clink on the link for Conference Details.
The Anthropocene I Christopher R. Cox, The Human/Nature Divide and the Problem of the Anthropocene
 Bertrand G. Guillaume, Thinking the Anthropocene Today: A View from the Philosophy of Technology
Dr Andreas Kotsakis, The Anthropocene and International Environmental Law: A Challenge from European Non-Centred Ecological Thought
 Lenore Malen, I Am the Animal (invited artist)


My obsession with a 15th century manuscript illumination (see posts below) lies at the heart of my essay "The Unconscious" which was included in the critic's page of the June issue of  The Brooklyn Rail,  The critic's page titled Wellsprings Reconsidered featured a long overdue reassessment of the role of the unconscious in art making and was curated by  artist and writer Ann McCoy.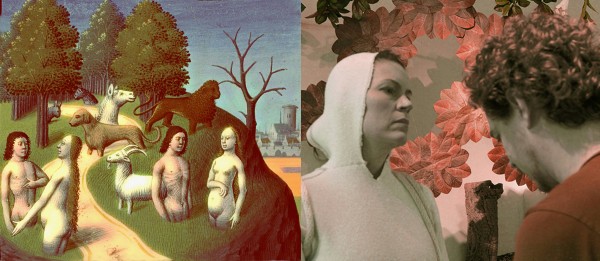 Leave a comment
05/24/14
06/11/13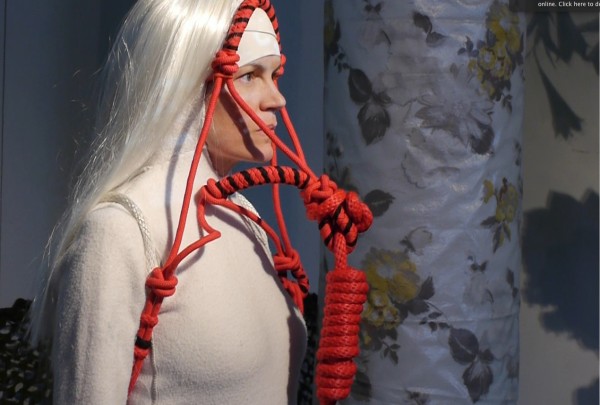 Introduction to Jussi Parrika's " Insects and Canaries," an essay that also features my video installation: "I Am the Animal," 2011.
In short, what such a stance is saying is that the capacities of human and animal bodies cannot be detached from considerations of their technological framings, which in this text is a question of ecology — a feedback loop of various levels and scales. In this sense, this text focuses on how to think the visual culture of disappearance —more closely, disappearance of animals." Insects and Canaries Medianatures and the Aesthetics of the Invisible" (Angelaki Journal of Theoretical Humanities, Vol 18, March 2013 (Routledge)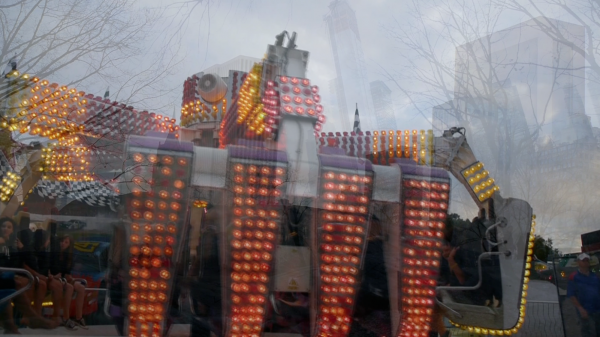 ISLAND, 2013 (2 min. 44 seconds) Vocals: Cecilie Beck; Cello: Declan Zimmerman
Screenings at: Red Door, 140 West 24th Street May 24th 7 PM and Matinee Lesley Heller Gallery July 10-August 7th 54 Orchard Street
The poet Carter Ratcliff  asked me to write an essay for his guest-edited section of the Brooklyn Rail, published Sept 4, 2013  on the subject "What is art? Is it possible to say?      Not impossible. (Click here.)

What is Art?
by Lenore Malen
What is art? Useless, an empty signifier, but also the currency for global capital and high stakes gambling, of great value and interest to millions of people who wait patiently in extremely long lines, and completely irrelevant to countless others; not intimate, but spectacular, atomized, and digitized, also intimate, tactile, hand-held, close up.
If you are extremely worried about the state of the world and believe that art with its myriad of contradictions can't stand up to it, think of Leon Golub's book Do Paintings Bite? in which he writes: "Art retains a residual optimism in the very freedom to tell."
The very freedom to tell gives art enormous power. And if art is inherently optimistic, as Golub suggests, it is also bound up in politics. It embodies the longings and desires of everyone, both unspoken and fiercely and violently contested. It offers a model for alternative worlds, future possibilities of being better and different. "Hope is participatory: the "waking dream," said the philosopher Ernst Bloch.
But when art is confined to the interior spaces of galleries and museums, some of them ice cold containers for global markets, it relinquishes its power to tell and to wholly engage with the world. Bloch's participation is a word that's become a movement, but its meaningless if it only applies to the privileged owners of art knowledge.
Questions a kid might ask but we are too ashamed: Why can't art fix anything and why is the world so hell-bent on destruction? And a more adult question in relationship to climate, which is my interest: Why can't we summon the collective will to put a halt to the worst of our excesses? And what are the forces that undermine our brains' capacity to know what's directly in front of us?
Art: Let's take this useless, empty signifier and restore its utopian and participatory potential. Art as action is not something new. Hope needs to move outside into the world; it already has to some extent. History tells us that these moments are possible, if fragile.
Leave a comment
12/13/12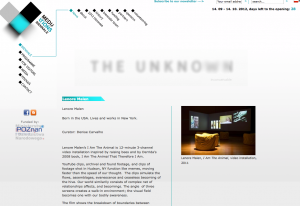 In September and October 2012  I Am The Animal was shown in a new installation at the National Museum in Posnan, as part of the Mediations Biennale that opened Sept 14, 2012. (Curated by Denise Carvalho)  http://www.mediations.pl/en/biennale/artysci/292-lenore-malen
Leave a comment
10/16/12
On Saturday and Sunday, October 20th and 21st, 2012 my long term collaborators filmmaker Ilana Rein, actress Kathryn Alexander  and JoAnna Shaw, choreographer and founder of the Equus Projects  helped re-stage a scene from a 15th-century manuscript illumination (Maitre Francois—National Library of the Hague ) that pictures the origins of humans and animals as represented in Genesis 2.
Monti: "It's a really interesting image. The manuscript is a copy of the French translation of St. Augustine's City of God. The passage of text just below the image is from Book 6, Ch. 8, which includes Augustine's commentary on Genesis 2. So, there's several layers: the image is not just an illustration of a biblical passage but an illustration of a French translation of a Latin commentary on a biblical passage.
Some background:
The French translation was produced by Raoul de Presles, a historian and councilor to King Charles V of France, in the 1370s (or thereabouts — in the last quarter of the 14th century, at any rate). Raoul's translation inspired new iconographies for illustrations of the City of God text in manuscripts made around 1400. In turn, some of the City of God manuscripts made around 1400 inspired the images in the Maitre François manuscript you're interested in. So here again, we're looking at layers of image traditions — the artist of your picture was probably borrowing from several visual sources, including earlier City of God images, as well as pattern-book images. (Pattern-book images are standardized pictures that circulated among artists and may have been used to create serialized images to save time, or may have been customized.)
Thus to answer your questions: there are several reasons why there are no "fowls of the air" in your illustration. They may not have appeared in other, earlier images that served as the model for this one. They may not be stressed in Augustine's commentary on this passage in Genesis. They may be depicted in another illumination on another folio in the manuscript. They may not have been considered as important to the symbolic meaning of the text or the image by either the artist or the patron. I'm sure there are other possibilities, but those are what I can come up with off the top of my head.  To read the full essay as a PDF 
Elizabeth Monti—Genesis 2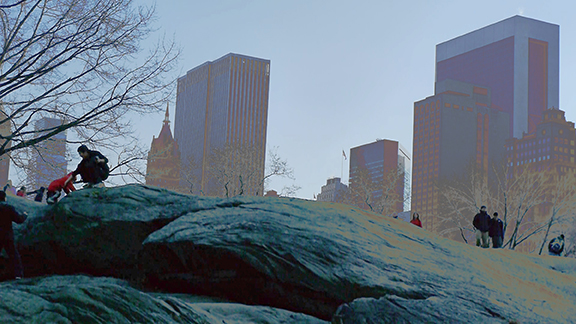 Genesis 2:7, 19
And the Lord God formed man of the slime of the earth: and breathed into his face the breath of life, and man became a living soul…And the Lord God having formed out of the ground all the beasts of the earth, and all the fowls of the air, brought them to Adam to see what he would call them: for whatsoever Adam called any living creature the same is its name.
Spitz: "Curiously, the image doubles its representation of Adam and Eve in the Garden.  It seems to me that, if we read across the image from left to right, as is normal when reading a verbal text in Latin or any of the European languages, we can easily imagine a dialogue occurring between the two characters.  As in a comic strip, they are doubled because they are shown at different moments in their colloquy.  I want to imagine their dialogue after two paragraphs of background:
God creates human beings twice in Genesis.  The first time is in Chapter 1. See 1:26, where He fashions them "in his image" so as to "hold sway over" all the other creatures already formed by him and carefully enumerated in the passage.   The Hebrew text says explicitly:   "And God created the human in his image, in the image of God He created him, male and female He created them."  According to the renowned Biblical scholar, Robert Alter, the term "adam" with the definite article is a general term for human beings and does not denote maleness.  We can assume then that human beings are referred to here." To read the full essay as a PDF  Ellen Handler Spitz—Genesis 2
1 Comment
Pages